What a week: Teresa Palmer became a mum, Simon Cowell became a dad, Charlie Sheen got engaged to a porn star, Footloose turned 30, Reality Bites turned 20, I separated from my husband …
Yup, it was all happening …
>> Aussie actress Teresa Palmer and husband Mark Webber welcomed a son, Bodhi Rain on Monday.
Teresa announced the happy news and shared the pic below via Instagram.
"Thank you God for blessing us with the most divine gift of our baby son. Introducing Bodhi Rain Palmer born safely, lovingly and naturally last night. 8 lbs. even. Bodhi means 'Enlightened one,' Rain means 'Abundant Blessings From Above' and we chose Palmer as his last name as Mark's [5-year-old] son Isaac didn't take his dad's name either. Thanks for all the blessings and love everyone."
>> Peaches Geldof shared this cute pic of herself with her youngest son Phaedra on Instagram, captioned: 'Wid wud and mama'
>> Hilaria Baldwin shared this pic of herself and bub Carmen doing a little pre-takeoff yoga together on Twitter. Nawwwwww …
>> How cute is Michael Buble's bub Noah? The family visited Disneyland together: "Noah's first time @Disney !! #Disneyland #family #fun #mickeymouse," Buble wrote on Instagram.
>> Also taking in the sights at Disneyland were Ryan Sweeting and Kaley Cuoco: "Mini honeymoon at the happiest place on earth! @ryansweething #myhusbandisadisneyvirgin," she wrote along with a photo uploaded to her Instagram account
>> Kim Kardashian's done a Beyonce (remember the matching Timberland shoes shot?) and Instagrammed a pic of her, Kanye and North West's matching pink trainers, captioning it "#Famleezys!!!"
>> Simon Cowell shared a series of gorgeous photos of his baby son Eric, who was born at 5:45pm on Valentine's Day in New York, weighing 6 lbs., 7 oz.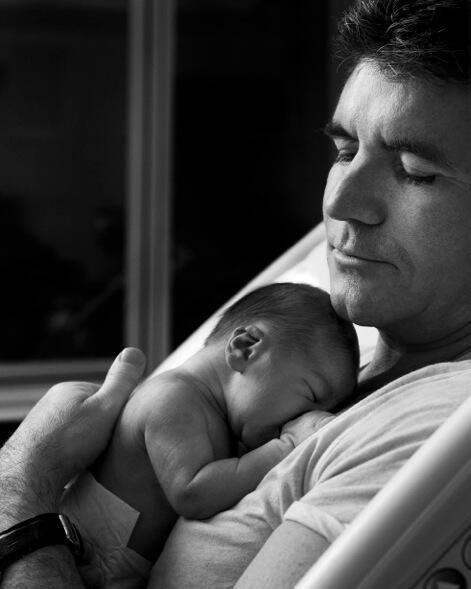 He later added this pic, captioned: "I never knew how much love and pride I would feel."
>> Meanwhile on Sunday Emily Blunt and John Krasinski welcomed their first childon Sunday. John announced via Twitter: "Wanted to let the news out directly. Emily and I are so incredibly happy to welcome our daughter Hazel into the world today! Happy bday!"
>> Jamie Durie posted this impressive pic on Instagram, captioned: Sunday morning session with @helenjrobinson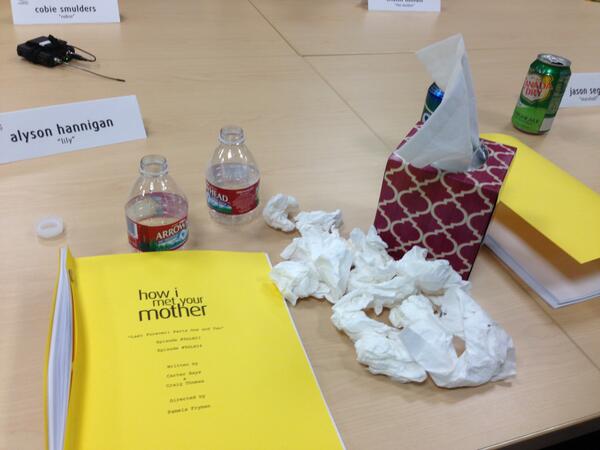 >>
Alyson Hannigan
shared this emotional pic on Twitter, writing: "Umm…so this is how the last HIMYM Table Read went for me.
#sorrytrees
"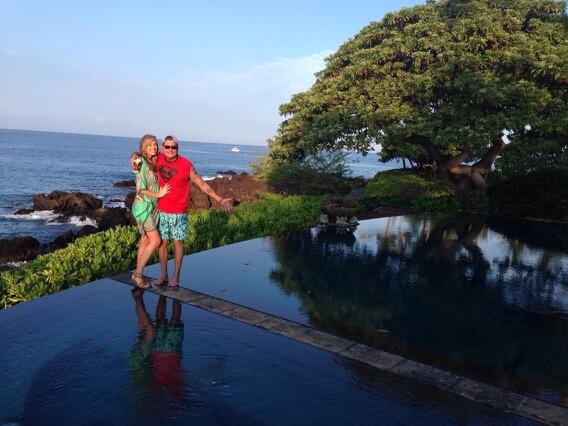 >> Congratulations (I think) to Charlie Sheen, who got engaged for the fourth time over the weekend.  He took his porn star girlfriend Brett Rossi to Hawaii for Valentine's Day and surprised her by popping the question. "Perfect day," Rossi tweeted. She later E! that her ring is "classic and beautiful,"
>> I love the story behind this pic. Ben Affleck thanked talk show host Jimmy Kimmel for getting behind a charity contest he and Matt Damon are running to benefit the Eastern Congo Initiative and Water.org on Twitter with the message:  "@JimmyKimmel — I thank you buddy. And @easterncongo & @water thank you! Matt, on the other hand? Matt, you there? Right. We will fax you."
The dig was a reference to Matt not having a Twitter account. Twitter CEO Dick Costolo added: "@BenAffleck, @JimmyKimmel, @water, we have printed out this tweet and placed it in a suitcase that we will have couriered over to Matt."
As revenge, Matt photocopied his butt, and wrote a message saying: "Dear Ben and Jimmy, here's my fax: Love MD."
Kimmel shared the memo via Twitter, writing: "@BenAffleck — did you see what your 'friend' Matt faxed to us? NSFW."
>> The Baftas were on last week and Tom Hanks was there to cheer on his Captain Phillips co-star, sharing this pic on WhoSay captioned: "Barkhad Abdi! BAFTA winner! He IS the captain now ! Somali champion !!! Hanx"
Click here for PopWatch's best moments from the Baftas. 
>> Sofia Vergara posted this shot from her hotel balcony in Sydney. The Modern Family gang are in town  to film a special episode of the show.
>> Madonna has made good on the promise she made on the red carpet at the Grammys and gotten her son David Banda a set of gold grills for his eighth birthday … as you do. She posted a pic on Instagram on Monday and captioned it: 'Someone stole my Grilzzzzzzz!!!'
Grrrrrrross.
>> Nicole Ritchie went to see Britney Spears perform in Las Vegas and got pulled up on stage. While she shared a pic of herself hugging  her old friend, she sadly didn't include one of her crawling like a dog on stage while Britney walked her on a leash. Damn.
>> American Pie star Jason Biggs and wife Jenny Mollen welcomed their son, Sid Biggs, over the weekend. Jason documented every moment via Instagram video including her being wheeled into the operating theatre and contractions.
Sid weighed 8lbs 8ozs and was born via unplanned casearean section at 5.33pm at Cedars Sinai in Los Angeles.
Click here to see the video … if you're so inclined.
>> Speaking of videos, Emma Thompson and Bradley Cooper played charades on The Tonight Show. And they were awesome at it.
>> X-Factor judge Ronan Keating helped daughter Missy celebrate her 13th birthday on Tuesday and shared pics of them celebrating on Instagram, captioned: 'Aggggggggghhhh @missyykeating you're a TEENAGER Happy Birthday !!!!!' and 'A massive Happy Birthday to the coolest TEENAGER. Love you so much. So proud of ya Moo.'
>> Simon Cowell wasn't the only celebrity who became a dad on Valentine's Day. That 70s Show star Danny Masterson and his wife Bijou Phillips welcomed a daughter, Fianna Francis.
They kept the news a secret from the world for a week before making the announcement on their Instagram accounts. Danny wrote: "Hello friends. Beyond thrilled to announce the birth of our daughter Fianna Francis Masterson! Mom and baby are doing amazing. You can all refer to me as dj dadpants from now on… Wifey @bijouphillips will post a pic on her insta too. Cheers!"
>> Robbie Williams pashed Karl Stefanovic on the Today Show. Karl gasped: 'I just kissed Robbie Williams on the lips! And it was good!'
>> Prince posed for this selfie with British comedian James Corden at the Brit Awards.
>> Kevin Bacon celebrated the 30th anniversary of the movie that made him a star, Footloose, with this pic on WhoSay, captioned: "It was 30 years ago today.
Ren McCormack taught the town to play…"
I also loved this GIF filled link to the movie.
PS On the subject of movie anniversaries, one of my other favourite coming of age movies, Reality Bites, turned 20.
Oh god, I feel so oooooooold now …
Well, that's it for this week … have a great weekend.