Yesterday was my first as a SAHM (again). It went pretty well. The youngest chastised me at one point, saying "I thought you weren't working anymore?" when she caught me checking my Twitter feed.
I assured her Mummy wasn't working, she was just having fun … But that wasn't entirely true. After a year of running a website I'm a bit OCD about missing something. It might take a little while to unlearn that.
While "having fun" checking my Twitter feed I noticed that the People's Choice Awards were on in Los Angeles. I have never given a flying fig about the People's Choice Awards before. I don't even know what they are exactly. Do you? But suddenly I was obsessed.
So, while I should be telling you all about the "cruise to nowhere" I'm taking today with my mum, dad, nephew and my kids on a ship that's so big it has it's own ice skating rink (an ice-skating rink!) I'm going to tell you all about the People's Choice Awards instead.
Forgive me. It's sickness.
Fortunately I am going on a digital detox during the cruise. It will do me the world of good. No blogging on Saturday and Sunday, then – well, this is the plan – I'll blog a little late on Monday once I return to dry land (and wi-fi) letting you know how it all went.
In the meantime … on with the People's Choice Awards …
The 2014 People's Choice Awards mark the beginning of what Tinseltown refers to as "awards season." It kicks off a flurry of awards nights including Sunday's Golden Globes, the Screen Actors Guild Awards, the Grammys and the Oscars. Needless to say I'm guessing Hollywood is pretty hungry right now as they keep themselves in constant red carpet shape. Sad, really
The show was created in 1975 and originally relied on Gallup Polls for the winners. The nominations are now based on sales, industry ratings, box-office grosses, social media data and votes from peopleschoice.com.
According to the hosts, 700 million votes were cast.
Here are my favourite highlights:

Before the awards started, The Big Bang Theory's Mayim Bialik kicked off the fun with this Twitter shot, captioned: "Getting ready for people's choice awards . New slippers, my cat and a Judith lieber clutch." The show went on to win Favourite Network TV comedy.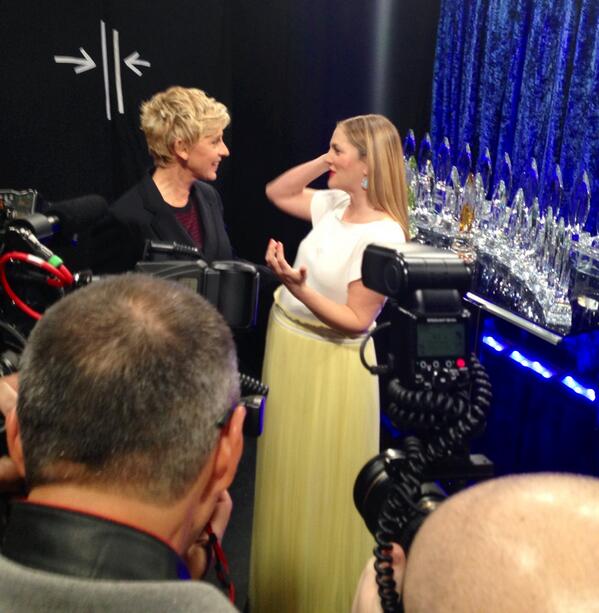 Check out Drew Barrymore's bump as she chatted backstage with Ellen Degeneres.
While presenting an award on stage, Drew joked: "Ellen DeGeneres just told me I was fat! But I'm not! It was really funny."
Drew is pregnant with her second child to husband Will Kopelman.
Ellen was responsible for my favourite speech of the night. Celebrating her 14th win she joked: "As a matter of fact, yesterday I was talking to this lovely African-American woman, and she told me she was single and she works 80 hours a week to get by, and she looks forward to coming home every single night and watching me," DeGeneres said. "And that woman's name is Oprah Winfrey."
Country singer Brad Paisley performed and Heidi Klum did her usual show-offy thing and stole his cowboy hat. Have to say I'm a bit envious of those boobs though.
Christina Aguilera played a waitress in a skit. She joined the ceremony's hosts Kat Dennings and Beth Behrs – who play waitresses on their show 2 Broke Girls – as they took the orders of some of the nominees. Pointing to her cleavage, Christina joked: "Don't worry ladies, I get a lot of tips."
EW's Annie Barrett wrote a running commentary of the night and noted at one point: "Favorite Action Movie Star Robert Downey Jr. asks for the spotlight — officially. Look, if Iron Man's gonna show up at the People's Choice Awards, he's gonna get to sound like God. It's called respect."
Jennifer Hudson and her sister Julia won the Favorite Humanitarian(s) award for the foundation they set up in honor of Hudson's tragically killed nephew, Julian. "It's one thing to be a celebrity, but it means absolutely nothing if you can't help somebody," said Hudson in her speech.
Later she Instagrammed the shot above, captioned: "Thank you to my fans, @Walgreens & @PeoplesChoicefor this incredible honor! Learn more about @JDKGiftat http://www.juliandkinggiftfoundation.com/"
Kaley Cuoco looked pretty stoked backstage with her award (and new hubby) in this pic from People magazine's Twitter feed. Kaley won the Favorite Comedic TV Actress award. In her acceptance speech she said: "This is the second best thing that's happened to me this year," the 28-year-old newlywed said of her win. "The first was marrying you, baby. I love you."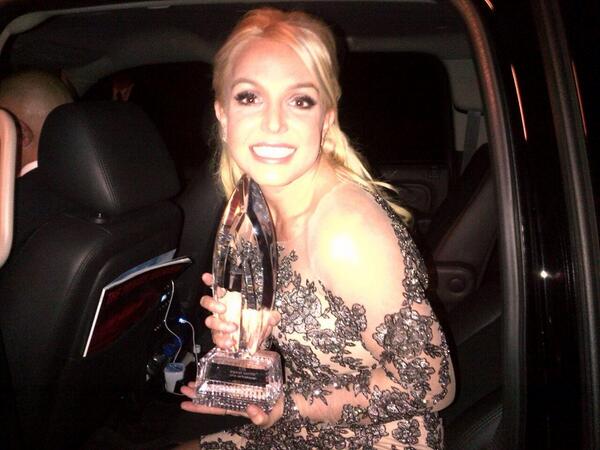 Britney Spears tweeted: "OMG! Thank you so much for choosing me as your Favorite Pop Artist! I love y'all so much! Xo!"
And I love this GIF of her in the audience
Speaking of great GIFs …
Another unforgettable moment came when Ian Somerhalder and Nina Dobrev won the People's Choice Award for Favorite On-Screen Chemistry for their roles as Damon and Elena on "The Vampire Diaries". The pair used to date in real life but have broken-up. Awkward.
When they won the award — and went on stage to accept it — that awkward feeling increased tenfold. But the seasoned pros joked about it all onstage. "We broke up in real life," Nina acknowledged. "And yet our characters are still dating on the show," noted Ian." "It's a good thing it's not awkward," Nina deadpanned as the pair smiled and Ian gave his former girlfriend a kiss on the cheek. "Well, it's a good thing we have chemistry," she quipped.
Sarah Michelle Gellar thanked fans for her Favourite Actress in a New TV Series award for The Crazy Ones, tweeting: "OMG! THANKS SO MUCH! I couldn't have done it without you… the FANS…This is AWESOME!"
Zac Efron looked rather dishy backstage in this Twitter pic he posted.
No ritzy after-parties for Justin Timberlake to celebrated winning three awards. Instead he headed to Taco Bell, where he posed for fun photos with the employees."What do we do after we win 3 PCAs?!?! Easy… Go to Taco Bell!! People's Champ, baby!!" Timberlake, 32, wrote on Instagram.Earlier in the night when accepting the award for favorite album, he almost redeemed himself in my eyes, saying: "I'd like to thank my beautiful wife [Jessica Biel] for teaching me patience and the little things like just putting the dishes in the dishwasher – it goes a long way. Fellas, you're welcome."
Last but not least, Kelly Osbourne was too busy learning to spray-paint graffiti with Justin Bieber to go to the People's Choice Awards. Hours after announcing her split with fiancé of five months Matthew Mosshart, Kelly licked her wounds and defaced a wall with Justin.
She posted photos of her efforts on Instagram, writing, "Just had so much fun getting lessons from @justinbieber on how to #SprayPaint! Needless to say I was s––t all I did was the horns! Justin is a lovely boy and [has] turned me into a true #Belieber tonight!"
Eeeeewwww.
PS And Nicole Kidman debuted some topless Jimmy Choo ads … saucy huh?
Have a great weekend and I'll catch you next week!