Hot damn it never slows down in celebrity land. And this week it's all about over-sharing (which I can't really diss … pot … kettle … black). From tweeting their baby's circumcision to posting videos of themselves half-naked in bed, here's what went down:
>> Calvin Klein has launched a social media movement among celebrities, getting them to post semi-naked selfies in the brand's underwear, and Fergie has joined the fray. She posted a 20-second, black-and-white clip on her Instagram account on Friday captioned 'Boom. #mycalvins'
>> Comedian Mary Coustas shared the story of her daughter Jamie Betsis' miracle birth on 60 Minutes last Sunday night. The 49-year-old confessed: "I'm sure I've done over 20 IVFs. I don't even dare to find out the amount."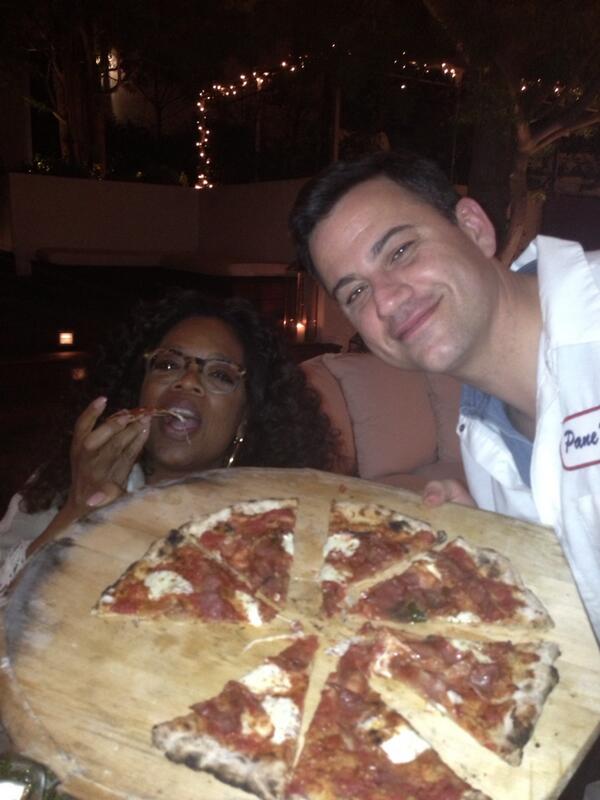 >> Jimmy Kimmel made pizza for Oprah and it was goooooood.
>>Bindi Irwin posted this flashback pic on Instagram in honour of her dad Steve's birthday.
>> Taylor Swift posted an Instagram pic of herself enjoying a day at the beach with New Zealand singing sensation Lorde. A couple of days earlier Lorde suggested to London's Capital FM Radio there might be a possible collaboration in the works between the pair. She said: 'The cool thing about Taylor is she is pretty willing to go a lot of places with music."
>> Miley Cyrus snogged Katy Perry on stage after spotting her in the front row on her  Bangerz tour. Afterwards, Miley told the audience, "I just kissed a girl and I really liked it a lot!"Other famous guests attending the LA concert included Harry Styles, the Kardashians, Zac Efron, Nicole Richie, Hilary Duff and Christina Aguilera.
>> Rachel Finch shared this cute pic on Instagram, captioned: "While Papa waters the garden. #Sunday"
>> Sofia Vergara took a koala selfie at Taronga Zoo.
>>  Zara Phillips and Mike Tindall showed off daughter Mia Grace in Hello! magazine's latest issue.
>> Ricki Lee shared this fun pic on Instagram captioned: "How cool are the #GAYTM 's on Oxford Street?!?!?!" Very cool, Ricki, very cool!
>> Her ex, Shane Warne, was accused of a tryst with British bra tycoon Michelle Mone (just hours after spending Valentine's Day with Liz) and took to Twitter to insist: "Just read some more ludicrous & laughable reporting on me, what an absolute load of rubbish! Whatever, time to rack up the air miles again."
Meanwhile, Liz Hurley kept things wholesome on Instagram with this pic, captioned: "Getting a nuzzle from my sweet friend, Sebastian."
>> Margot Robbie has fallen in love on the set of her latest movie, Z for Zachariah, currently being filmed in New Zealand. She's dating crew member Henry Aitken, who shared a pic on his Facebook page of him cosying up to the Aussie actress. Margot has created quite a stir in Hollywood, with rumours she was romancing Will Smith while they were filming Focus together, and Leonardo Di Caprio during the making of The Wolf Of Wall Street. She has comprehensively denied both reports.
>> Actress Rachael Taylor has opened up to Australian Women's Weekly about being abused by her former boyfriend. While she doesn't name Matthew Newton, it's widely believed he's the partner in question.
The pair split in 2010 after two 'violent and unprovoked' attacks in Rome, following which she took out an AVO against h im. Court documents revealed that she was allegedly left with injuries consistent with having her head 'bashed against the floor and walls'.
"I don't think any woman thinks that they will become an addition to these statistics," she writes. "I didn't. I thought I was exempt. I thought I was the exception to the rule. I was not. I am a survivor of domestic violence.
"At first, my reasons for keeping my experience of domestic violence to myself were very simple. I felt ashamed. I felt stupid. I felt very sad. And there was another reason. Domestic violence is not very nice to talk about. Not for the survivor of it, nor the community at large."
>> Grant Denyer is considering taking legal action against Woman's Day after it reported he is seeking treatment in rehab for drug addiction.
He took to Twitter with a pic of himself and daughter Sailor, saying: "Thanks for the support everyone. Love the Denyers xox.'
In a statement released by the couple's spokesman, they denied the claims and insisted he was being treated in Thailand for an 'ongoing unknown stomach illness'.
"Grant and Chezzi Denyer are saddened by the highly defamatory article in this weeks Woman's Day magazine," said the spokesman. "The couple have been under immense stress in recent months due to Grant dealing with chronic fatigue brought on by exhaustion and an ongoing unknown stomach illness. Chezzi has also been dealing with PTSD and anxiety issues resulting from Grant's condition.
"The wellness centre they attended in Thailand specialises in the treatment of PTSD and exhaustion and they spent four weeks there to finally address these ongoing health concerns. With their conditions now under control they are healthier and happier than they have ever been."
>> Guy Sebastian's wife Jules played dress-ups with their son Hudson on Instagram, with the caption 'My little geek.'
>> Scott Foley is the new face of luxury home brand Charisma. I was soooooo in love with him when he was Noel on Felicity. Phwoar …
>> American Pie star Jason Biggs and his wife Jenny Mollen revealed – via social media no less – they had their 10-day-old son Sid circumcised on Tuesday. Mollen she wrote on Instagram: "Today was not a good day to be Sid's penis. #babybiggs #circumcision"
Jenny also tweeted: "Right after, we decided not to bury the foreskin in our backyard for fear that Teets might find it and bring it into bed to sleep with us. That's so Teets!"
The couple attracted widespread criticism for joking about it. "He has to live with a mutilated penis because his parents are ignorant," one critic wrote.
>> Channel 10 has released a first pic of Offspring's Nina Proudman with her baby daughter, born on the show after her dad, Dr Patrick Reid, died suddenly. The show returns to air on March 5.
>> The Muppets are invading Instagram to promote their upcoming big-screen adventure, Muppets Most Wanted. Here's just one, captioned: "ANIMAL SURPRISE! ANIMAL SURPRISE! HAAA HAAA HAAA!" See the rest by clicking here.
>> Gisele Bunchen celebrated her fifth wedding anniversary to Tom Brady by posting this sweet wedding flashback pic captioned: "Happy anniversary my love. Te amo! #wedding #2009,"
>> Jessica Simpson shared this mother-daughter selfie on Instagram.
>> While Beyonce shared this adorable pic of daughter Blue Ivy at the beach on Tumblr.
>> Katy Perry stayed silent on whether she's broken up with boyfriend John Mayer, though it's being widely reported. An insider told Us Weekly that the break-up was 'mutual' and 'extremely amicable,' adding that they plan to stay friends.
Instead, she revealed she'd played midwife during a friend's emergency birth. She tweeted: 'Finally you can add "helps delivers babies in living rooms" to my resume! It's been a miracle of a day… Auntie Katy aka Stylist Auntie.'
>> Tammin Sursok shared this cute pic of her new bub, Phoenix Emmanuel.
>> And finally, my favourite video of the week was Paul Rudd lip synching to Tina Turner!