So, there's this thing called the Met Ball .. it's organised each year by Vogue magazine as a fundraiser for the Metropolitan Museum of Art in New York. Tickets cost $25,000 big ones and MASSES of celebs go … they also social media their asses off before, during and after … and I just couldn't help myself – I had to bring you the best selfies from the night. Enjoy!
>> Nicole Ritchie: "Wild for the night. Cara, Zooey, Riley, Zoe, Hayden & Nic 💋💣💋💣 #MetBall2014"
>> Hugh Jackman: "Headed out for an awesome night with my beautiful wife @Deborra_lee #TasteofSpring #METBALL"
>> Victoria Beckham (via Twitter): "So proud to share such a great evening with my wonderful husband x vb #MetGala #CharlesJames"
>> Selena Gomez posed with John Legend and Chrissy Teigen and captioned the Instagram pic: 'They found me to tell me y'all told them I was a fan!!'
>> Anna Kendrick: "With the handsome and talented J Mendel at the #MetGala. Had the honor of briefly wearing the personal top hat of the great milliner Stephen Jones, who took this photo."

>> Naomi Campbell chose a rather racy number for the ball and shared a shot on Instagram.
>> When Beyonce shared this shot on Instagram, Lupita Nyongo regrammed it with the caption: "YUP! This happened!!!! #regram @beyonce @saintrecords#METBall #StillScreamingInside"
>> Lupita belatedly added this pic – be still my beating heart – captioned: "Me and King #CollinFirth dining. #regram @livia_firth#METBall"
>> Katie Couric , Anne Hathaway and Amy Adams took to the dance floor

>> Madonna created quite the stir with this self-censored shot on Instagram, captioned: "What i wanted to wear to Met Ball but Anna said Not this year! So I'm gonna work on music instead? #artforfreedom."
>> Gisele (via Instagram): "Ready to go!"
>> And then this happened.
>> Mario Testino shared lots of pics of the stars on his Instagram account, including this shot of designer Stella McCartney, Johnny Depp and Marion Cotillard
>> Taylor Swift's friend Karlie Kloss posted this pic via Instagram of the pair getting ready.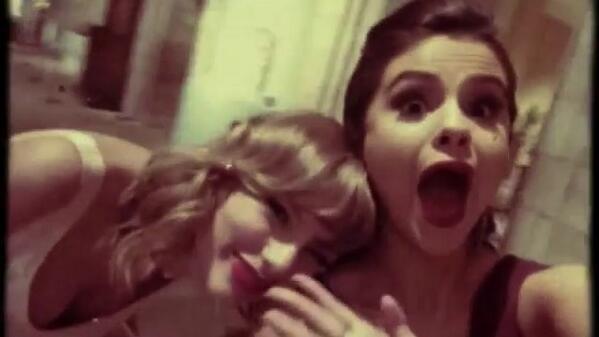 >> Then Taylor and Selena Gomez kissed, made up and danced … after famously fueding over Selena's relationship with Justin Bieber.
>> Bradley Cooper's squeeze Suki Waterhouse posted this pic on Instagram of herself off to the ball.
>> Kendall Jenner revealed via Instagram that she was going to the ball dressed by Top Shop.
>> Lily Allen Instagrammed this pic of herself on the way to the ball.
>> Lea Michele Instagrammed this pic of herself being prepped for the ball.
>> Beyonce and Jayz posed for this Instagram selfie at the ball.
>> Jessica Alba posted this shot on Instagram, captioned: "The #Queen of #fashion @dvf #metball2014 #metgala#metball @selenagomez @jessicajoffe #davidorussell"
>> And this one!

>> Cara Delvigne gets a nappy change from Lily Allen at the Met Ball (via Instagram)
>> Christy Turlington and Ed Burns (via Instagram): "Finally scaled the red carpet…#metgala2014 @calvinklein"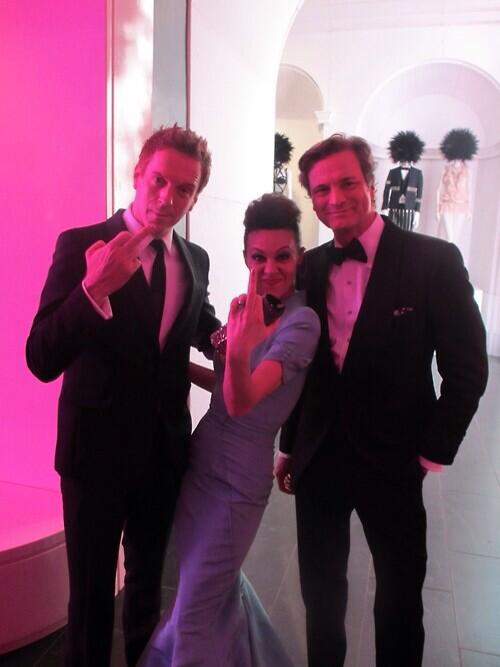 >> Damian Lewis posed for this charming shot – posted on Twitter – at the Met Ball.
>> Professional gossip Just Jared posed for this pic on Twitter with Rihanna.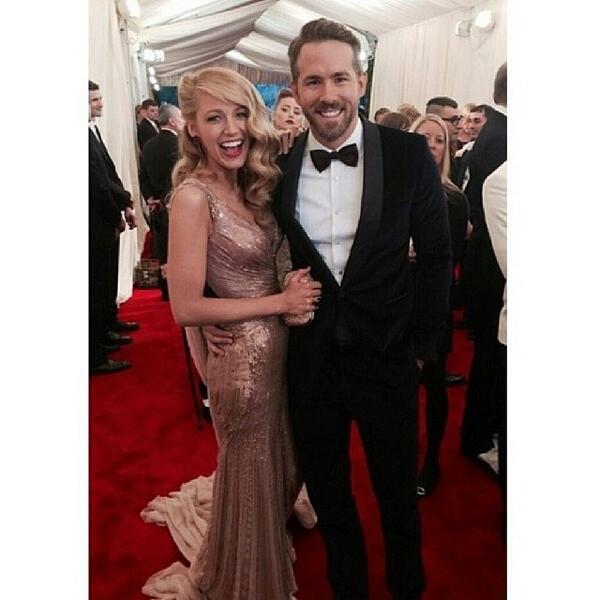 >> Blake Lively and Ryan Reynolds looked adorable.
>> Kim Kardashian: "Thank you Anna for beautiful evening #MetBall#Vogue"