What was your verdict on the Logies last night? As usual it went waaaaaaay too late, not wrapping up until around midnight, there were mixed reviews of Kylie Minogue's performance including allegations on Twitter that she was miming, and Richard Wilkins won the award for worst joke of the night when he announced: "It's official: Scott Cam has the biggest deck on Australian TV."

Speaking of Scott Cam …
When Kylie Minogue announced Scott was the winner of the Gold Logie, he was overcome with emotion. "This is really unbelievable," he said when he walked onto the stage. "I kissed Kylie Minogue, that's pretty cool. It's unbelievable that it's 11 o'clock at the Logies and I'm sober, that is unbelievable! You should try it. . .
Things got wobbly again when it came time to thank his family. Scott had to clear his throat to mention of his mother, who has been ill, as well as his children and wife.
'My three beautiful kids Charlie, Bill and Sarah are with my mum right now, I know they'll be going 'berko', he said
His last thanks was for his crying wife, who he called "an absolute corker."
Scroll to the bottom for the full list of winners.
Now it's selfie/happy snap time …
Here are my faves from the night …
>> Jane Kennedy: "Thank you @BondiVet for my Logies treat"
>> Kylie Minogue (via TV Week)
>> In juicy post-Logies news, News Corp reckons that after the Logies, Kylie and Andy Lee "only had eyes for each other" at an exclusive party at Shane Warne's Club 23, part of the Crown complex.
"They made the sweetest couple and nobody could take their eyes off them," a source told News. "They were very flirtatious and looked to be thoroughly enjoying each other's company."
Ooo-er!
>> Kylie and Ed Sheeran (via Twitter): "#lovers I told you #EdGivesGoodHugs"
>> Kate Ritchie (and her bump) (via TV Week)
>> Rhonda Burchmore (via Twitter): "Feeling glam in Connie Simonetti's stunning emerald gown tonight at the Logies #sparkle#feelingspesh"
>> Dave Hughes (via Twitter): "This is my first and last Logies Selfie. #openwide#goodluckcarrie"
>> Sunrise (via Twitter): "#Logies ready! @kyliegillies@sam_armytage@edwina_b@natalie_barr#sun7#TMS7"
>> Sunrise (via Twitter): "#CashCow hits the #Logies with @sam_armytage@natalie_barr and @edwina_b#sun7"
>> Samantha Armytage also shared a pic on Instagram of her before and after make-up looks.
>> Manu (via Twitter): "Look who I'm sitting next to at the logies. Wow!!!"
>> Shane Jacobsen (via Twitter): "Here we go at the Logies"
>> Michael Usher (via Twitter): "This is why the Logies are fun. @60Mins meets @HousosTheMovie#tvweeklogies@Channel9"
>> Georgie Parker (via Instagram): "Dressed by @mattheweagerdesigns . Love it . Logies is a go .🙌✨"
>> Later in the night, Georgie posted this shot (via Instagram): "@tai_hara @snowalec @jackson_gallagher_ . A little blurry , but at this time of night we all think that's for the best." 
>> Jennifer Hawkins (via Instagram): "#logies @lizkelsh"
>> And here's what she looked like fully dressed.
>> Ada Nicodemou (via Instagram): "Off to the Logies @paolo_sebastian@cosmopolitanshoes @rosesaffioti"
>> Chrissie Swan (via Moby Picture): "Thanks @TeKieroBoutique! We can finally announce that we've dressed chrissie swan for the Logies!"
>> Michelle Bridges (via WHO magazine Instagram): "Every night is date night" for loved up couple@mishbridges and @commandosteve #logies
>> And later during the awards. Awwww.
>> Virginia Trioli: "Here we go! #logies"
>> The Block contestants Alisa and Lysandra posed with judges Darren Palmer and Neale Whittaker.

>> Hamish Blake: "Pre-red carpet ritual of applying wife @zotheysay's Lips! by her sweet company @gotoskincare"
>> Meanwhile Hamish's wife, Zoe Foster, who is 37 weeks pregnant with their first child, Instagrammed a pic of herself in white bathrobe as she watched the awards on television from a hotel room. Quite a contrast from her glam look last year.
>> Joh Griggs (via Instagram): "Thank you to Margie Skeggs for the amazing hair and make up, and to @helenmanuell for the most stunning frock, @elizabethjeanfor the beautiful jewels, and for @racheldennisstylist for making the whole thing happen. Loved it all. Had the best night…:)"
>>  Asher Keddie and new hubbie Vincent Fautauzzo (via TV Week). 
>> Rebecca Gibney (via Instagram): "Getting our blue steel on at the 56th TV Week Logies Awards with the gorgeous Danni Minogue"
>> Dannii Minogue and Shane Warne. 
>> Dannii also shared this shot via Instagram: "Girls whooooooo @natbassingthwaighte @soniakruger#logies"
>> And this one (also via Instagram) with her big sis, Kylie Minogue, and Paula Abdul. 
>> TV Week editor Emma Nolan and staff.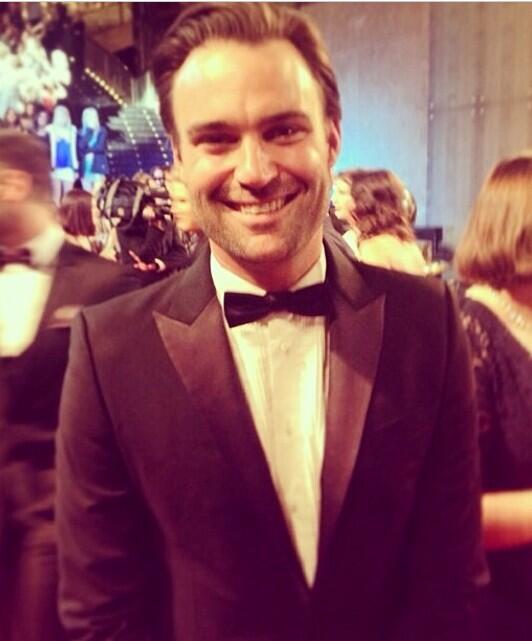 >>  Matthew Le Nevez.
>> Jessica Tovey: "I am Ellen!! #tvweeklogies#wonderlandten#kylieminogue"
>> Emily Symons: "My HAA family…so proud of my boys #tvweeklogies"
>> Tina Arena: "Me and my sister Nancy on the red carpet #Logies2014#tvweeklogies"
Logies 2014 WINNERS
Scott Cam, Gold Logie for Most Popular TV Personality
Asher Keddie, Most Popular Actress, Offspring
Chris Lilley, Most Popular Actor, Ja'mie, Private School Girl
Scott Cam, Most Popular Presenter, The Block
Home and Away, Most Popular Drama Series
My Kitchen Rules, Most Popular Reality Program
Nine News, NSW Bushfires, Most Outstanding News Coverage
Hamish and Andy's Gap Year Asia, Most Popular Light Entertainment Program
The NRL Footy Show, Most Popular Sports Program
Better Homes and Gardens, Most Popular Lifestyle Program
Nowhere Boys, Most Outstanding Children's Program
Prisoner X, Foreign Correspondent, Most Outstanding Public Affairs Report
Kings Cross ER, Most Outstanding Factual Program
Peter Harvey, Hall of Fame inductee
Bonnie Sveen, Most Popular New Talent, Home and Away
Melbourne Cup, Seven, Most Outstanding Sports Coverage
Top of the Lake, Most Outstanding Miniseries or Telemovie
Asher Keddie, Most Outstanding Actress
Lachy Hulme, Most Outstanding Actor
Housos, Most Outstanding Light Entertainment Program
Redfern Now, Outstanding Drama Series