I'd like to say I didn't see the Gwyneth and Chris split coming … but the signs had been screamingly there for such a long time. Still, it's sad to see any couple separate, she says … with a knowing nod.
In happier news, Chris Hemsworth welcomed twin sons and North West peed on her daddy.
>> Gwyneth Paltrow and Chris Martin announced on Wednesday via her Goop website that they were separating. The site immediately crashed as half the world clicked there to see the announcement for themselves …
"It is with hearts full of sadness that we have decided to separate," the statement says.
"We have been working hard for well over a year, some of it together, some of it separated, to see what might have been possible between us, and we have come to the conclusion that while we love each other very much we will remain separate.
"We are, however, and always will be a family, and in many ways we are closer than we have ever been. We are parents first and foremost, to two incredibly wonderful children and we ask for their and our space and privacy to be respected at this difficult time. We have always conducted our relationship privately, and we hope that as we consciously uncouple and co-parent, we will be able to continue in the same manner."
Bizarrely, the day before announcing their separation, the couple flew to the island of Eleuthera in the Bahamas, PEOPLE has confirmed for a "break-up moon". A source said it was to escape the media storm that inevitably erupted after the announcement.
>> Several days earlier, Gwyneth caused a stir when she posted a make-up free selfie of herself on Instagram, captioned: 'Full of healing power. #iLoveWater #WorldWaterday @drop4drop,'
>> Naawww. Chris Hemsworth's wife, Elsa Pataky, revealed the names of their newborn twin sons via Instagram together with the cute pic above: "You are home! Tristan and Sasha came to to this world on March 18, just after a full moon. Complete happiness!"
>> Grey's Anatomy star Patrick Dempsey lost his mother Amanda after a long battle with ovarian cancer.
Patrick and his family, were with his 79-year-old mum when she lost her fight on Monday, almost two decades after her initial diagnosis.
Her fight inspired the star and his sisters, Mary and Alice, to create the Patrick Dempsey Center for Cancer Hope & Healing in 2007, in conjunction with the Central Maine Medical Center in Lewiston, Maine.
>> Tom Williams shared this adorable pic of his bub Storm on Instagram … somebody looks a lot like Daddy me thinks …
>> Dr Chris Brown wrote on Instagram: "My nephew has always wanted to be an astronaut. He just didn't realise it would happen so soon."
>> Eva Longoria visited Australia as a guest of L'Oreal Paris and squeezed in a Dodgers baseball game and a trip to Taronga Zoo. She shared this pic on WhoSay: Here's an amazing selfie with a koala! Thx@TarongaZoo!
>> How's this for a freaky Instagram shot? Jamie Oliver wrote: "I'm In an amazing Mushroom farm in an old railway tunnel outside Sydney super cool just picked a whole bunch of stuff thanks to Dr Noël for the tour !! Cool fact they had a thunder storm last night so all the mushrooms double in size when this happens ??!! Crazy amazing stuff what do you guys like to do with mushrooms ?? Broth fried on toast#newsouthwales #jamieoliver"
>> Celebrating the debut of The Muppets: Most Wanted movie, the puppets mocked Kim Kardashian and Kanye's new Vogue cover.
The cover was roundly derided. Even celebrities weighed in, with Sarah Michelle Gellar tweeting her disgust: "Well……I guess I'm cancelling my Vogue subscription. Who is with me??"
However, Kim was stoked to have achieved one of her goals in life: "This is such a dream come true!!! Thank you @VogueMagazine for this cover! O M GGGGGG!!! I can't even breath!"
Whatever you think of the cover, you have to admit this shot of North from one of the inside spreads is adorable. Kim revealed on a talk show that when this photo was taken: "North Peed on him right at that moment. He was trying to tell me and I couldn't really hear him. I had to get her and clean him off."
I'm not really sure why he couldn't clean himself off …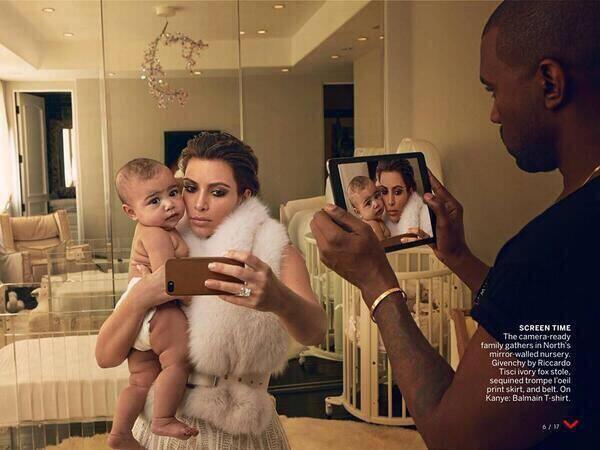 On the other hand, geez this is a sad selfie. Do you think they were being ironic? Do they do ironic? And why isn't Kanye's reflection in the mirror? Spooky! (It's been widely suggested – tongue-in-cheek – that it's because he's a vampire.)
>> In an interview with Lisa Wilkinson for the Today Show, Rachel Griffiths admitted: "I always wonder if I'm a good enough mother. Probably more than wondering if I'm a good enough actress. I do, I look in their faces when I'm grumpy and I'm tired and I go to bed just feeling 'I just was so subpar today'."
Rachel is mum to Banjo, 10, Adelaide, eight, and Clementine, four.
She added: "I went back to work with all my babies at six weeks I was never in a mothers' group, I never had those connections to go 'Is it normal that they're doing that?' 'I always felt very alone as a mother. You know I had nannies, I had housekeepers, I had all the paid help but you don't really have that moral support, like the girls you went to school with."
>> They've been together 10 years but it looks like the romance is far from dead for Jennifer Hawkins and Jake Wall. She posted this sexy shot on her Instagram account last weekend.
>> Ricki Lee copped it for this selfie, which punters believed showed she was too thin and was encouraging eating disorders in her followers.
She responded to her critics saying: "I started out in this business 10 years ago when I was 18 years old. In that time I've endured constant taunts & criticism about the way I look.
"I've been called every name under the sun and have always managed to maintain an unbreakable self confidence.
"It's that self confidence that I've always tried to encourage women to have. The kind of confidence where it doesn't matter what anybody says – you are happy with yourself.
"It's never mattered to me what size I am – I've always been full of confidence & always felt comfortable in my skin & felt sexy no matter what size.
"I hope this puts an end to the ridiculous comments about the way I look. Yes, my collar bones stick out… they always have. But I've still got curves in all the right places."
>> Ian McKellen and Patrick Stewart shared this cute selfie of themselves talking to each other on the phone.
>> Kylie Minogue channelled Marilyn Monroe in this Instagram shot captioned: "Mr President"
>> Reese Witherspoon celebrated her 38th birthday by taking her mother Mary Elizabeth to a bowling alley in Nashville.
She wrote on WhoSay: "Thank you to my amazing mother! #happybirthday#9months#birthandbeyond #alltherest."
>> Simone Buchanan showed off her 16-year-old son on Twitter, captioning the shot:  "My big baby Tane. Love you."
>> Lisa McCune is set to play Anna Leonowens in Opera Australia's production of the classic Rodgers and Hammerstein musical The King and I … opposite her rumoured paramour, Teddy Tahu Rhodes.
The pair previously starred together in South By Southwest, which was a sell-out hit for the company.
While Lisa won't comment on their personal relationship, she's quite happy to rave about working with Teddy: "He's one of the best singers in the world and he was tutoring me about how I should do it, which was great."
>> Karl Stefanovic has joked to the Nova radio crew that his bosses at the Nine Network are planning to get rid of him. He announced: "In my first year at the Today show I had three people come up to me at the car park and say, "Mate, I've just been offered your job" Mike Munro, Ray Martin and Ben Fordham. I'm 100% serious. I know that "upstairs" is actively planning to get rid of me, and I like it. I embrace it. I don't care — it's best to go, 'It's TV, eventually they will, so I'm just gonna have a great time and sail on into the sunset'."
>> Well, this will get people going – Alec Baldwin has posted a pic of his 7-month-old daughter Carmen on Instagram with pierced ears. Wife Hilaria is Spanish, where it's not unusual for daughters' to have their ears pierced when they are still infants.
>> Kevin Bacon still has the moves! He guest starred on The Tonight Show for Footloose's 30th anniversary with a shot-by-shot recreation of the 1984 classic flick — and it was magical. It's gone viral but just in case you missed it …