My favourite celebrity couple – Kristen Bell and Dax Shepard – have asked their fans to boycott magazines that pay for photographs of celebrity children.
And, believe it or not, I'm with them all the way.
Dax tweeted earlier this week: "Please boycott magazines that run pics of 'celebrity children.' They shouldn't be punished for who their parents are."
"Children shouldn't be stalked #boycottusweekly #boycottstar #boycottpeople #boycottintouch #boycottboycottboycott," he added.
Kristen tweeted: "I wont do interviews 4 entities that pay photogs to take pics of my baby anymore. I care more about my integrity & my values than my career… The 'look at the celebs kid at the park!' teaches us a disengaged vouyerism. think abt how being followed by photos all day effects THE KID."
I know it sounds hypocritical coming from a former weekly magazine editor who spent six years publishing photos of celebrity kids and parents being stalked by the paparazzi. But I'll NEVER do it again.
Because the kids DON'T deserve it. And I don't think most of the stars do either (I make a special exception for the ones who like to tip the paps off on their whereabouts … they deserve everything they get).
Sadly, it took not having the cash to pay for papaparazzi photos to teach me you don't need them to write a celebrity news blog.
I started looking at the photos celebrities themselves were posting on social media, coupled it with stuff celebs actually said in interviews on TV or in print media and found more than enough "gossip" material to satisfy me.
I love looking at pics that celebs are happy to share with the world. I find them way more fascinating than a sneaky snap aimed at humiliating a star for having dimpled thighs.
So welcome to HouseGoesHollywoodGoesEthical.
It's a paparazzi-free zone. But still heaps of fun. Hope you like it.
OK, here's what happened in Celebrity Land this week …
>> Tom Williams shared this adorable pic of himself with newborn daughter, Storm Eve Napier, on Instagram. His wife Rachel Gilbert gave birth to Storm on January 8 at the Mater Hospital in Sydney.
>> Jessica Simpson shared a series of adorable snaps of her gorgeous brood – 20-month-old daughter, Maxwell, six-month-old son, Ace, and fiance Eric Johnson on her Instagram page. Nawwww!
>> Leonardo DiCaprio and Jonah Hill re-enacted the infamous 'I'm flying' scene from Titanic on Saturday Night Live. Much hilarity ensued.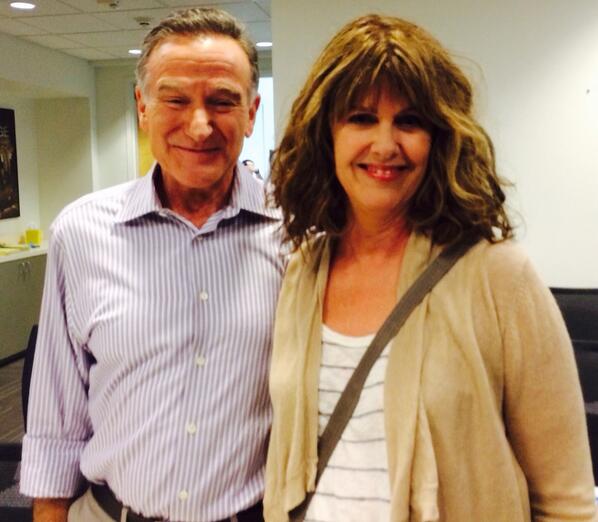 >>
Mork & Mindy
co-stars
Robin Williams
and
Pam Dawber
reunited and Robin's current co-star on
The Crazy Ones
, Sarah Michelle Gellar, was there to capture the moment. She tweeted: "
@robinwilliams
thank you for letting me be a part of this today
#PamDawber
#32yearsinthemaking
"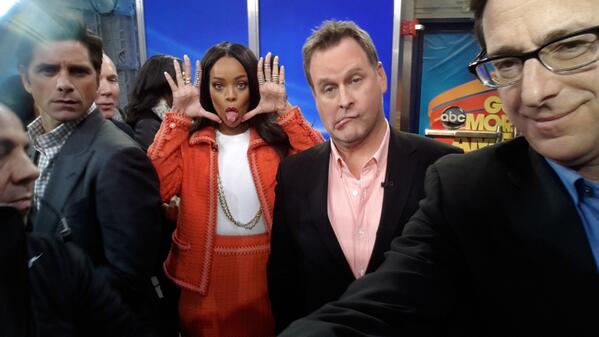 >> Rihanna struck a few poses with the Full House cast the set of Good Morning America.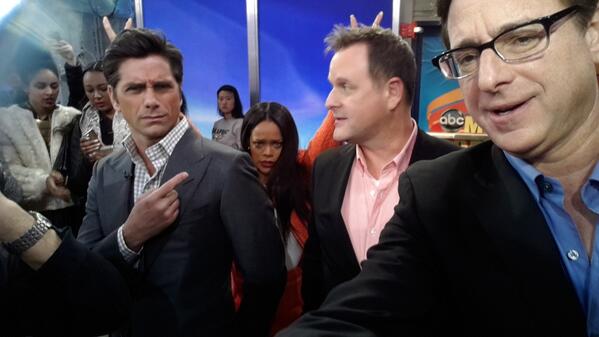 >>  Including this awesome bunny ears photobomb.
>> OK, this isn't a new photo, but it popped up on my Facebook feed this week. Oddly enough I'd just had a sex dream about Nathan Fillion (where did THAT come from? He and Jake Gyllenhaal are the usual suspects and I have absolutely no idea why).
The pic was captioned: "I am Matt smith. I do not have twitter. So I stole Nathan's. he may be the kindest man I ever met !!!! M"
>> The pair also met up at Comic-Con in 2012 … (I was obsessively Googling …. sad)
I can feel another sex dream coming on …
>> 50 Cent and Meryl Streep went to a Knicks game together and had a blast. He commented on Instagram: "Man I got a good life man lol#smsaudio"
>> Ewwww Kaley Cuoco swapped spit with her dog. The star captioned the photo: "Yes. We share everything. 🙂 #norman".
>> And then a group make-out session with her friends Haylie Duff and Ali Fedotoswky. She captioned the picture on Instagram: 'Yea. We are totally in high school. Totally…. #craigsmakeoutsesh.'
>> Tiffani Amber Thiessen rang in her 40th birthday in Playa La Ropa, Guerrero, Mexico with her husband Brady Smith and about a dozen friends.
>> Jennifer Hawkins shared this jealousy inducing pic on Instagram captioned: "Beach, eat, chill… repeat! 🌺🌴 #happiness Best weekend! #OzDay @jakewwall"
>> For more Australia Day action celebrity style click to the blog I wrote (with 19 fun pics)
>> Lara Bingle took the whole beach selfie thing one step further, appearing nude and attracting 10,000+ likes in the process. She also appeared in court last week to plead guilty to two charges relating to driving while on a cancelled licence.
>> Kate Hudson shot ads for the fashion label Ann Taylor with sons Ryder, 10, and Bingham, 2.
l
>> Kelly Osbourne captioned this cute Instagram shot: "My Dadda is the best person on earth to go to#hollywood parties with all we do is laugh because we can't take anything seriously! #CliveDavisParty#grammys"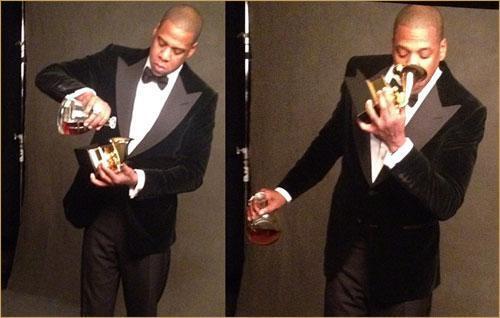 >> The Grammys aren't usually top of my celeb radar but there were heaps of fun pics floating around on the night that won me over (like this one of Jay Z – husband of Beyonce – announcing in his acceptance speech that he'd won a gold sippy cup for his toddler daughter). Check them out here.
>> Justin Bieber's dad tried to get the sympathy vote for his son by posting this pic of him sleeping with his half-brother Jaxon. Justin tested positive for marijuana and prescription drugs after he was pulled over and arrested while driving a Lamborghini through Miami last week. He also flew to Toronto address possible assault charges over his alleged involvement in an altercation with a Canada limo driver who picked up the pop star and five of his entourage from a Toronto nightclub in December. And a petition to have him deported from the US to Canada has attracted more than 100,000 signatures!
>> American Idol judges Jennifer Lopez, Keith Urban and Harry Connick Jr shared pics of their first ever television appearances on the show …
>> JLo appeared on the sketch comedy show In Living Color as one of the so-called 'Fly Girls'.
>> Keith sang Air Supply's "All Out of Love" on a talent show.
>> Harry started playing the piano publicly when he was just five-years-old.
>> Remember a snap of Jerry Seinfeld and Jason Alexander walking into Tom's Diner on Manhattan's Upper West Side a few weeks back? Well Jerry has confirmed a reunion is happening! The Seinfeld gang are working on a secret project together in character. Seinfeld called it a "short-ish"-form project, but that it's longer than 60 seconds and will go public "very very soon."
Well, that's it for this week … hope you had a good one!