The Grammys? I know …. they don't usually feature high on my celebrity must-see list either … but once I saw GIFs of Yoko Ono dancing in the crowd and Pink's amazing acrobatics on stage I was hooked.
So indulge me by checking out these great moments from the night.
PS I promise I'll cool off on the celebrity stuff once the awards' season is over.
But for now: on with the show …
The action kicked off pre-awards, when Kelly Osbourne captioned this cute Instagram shot: "My Dadda is the best person on earth to go to#hollywood parties with all we do is laugh because we can't take anything seriously! #CliveDavisParty#grammys"
Katy Perry left boyfriend John Mayer at home and took her musician brother David Hudson as her date. Katy shared a picture of them in their limo on the way to the event captioned: "Here come the HUDSONS @TheGRAMMYs."
She joked: "Why are my eyeballs so much bigger than my brothers? Wait. Is @sirdavidD really my brother?"
Jay Z posed with Madonna's son, David, backstage.
Trust Neil Patrick Harris to deliver the night's best photobomb. The How I Met Your Mother star snuck up behind newlyweds John Legend and Chrissy Teigen at the show Sunday night. "One can only be so lucky to get a nph photobomb," Chrissy captioned the Instagram shot.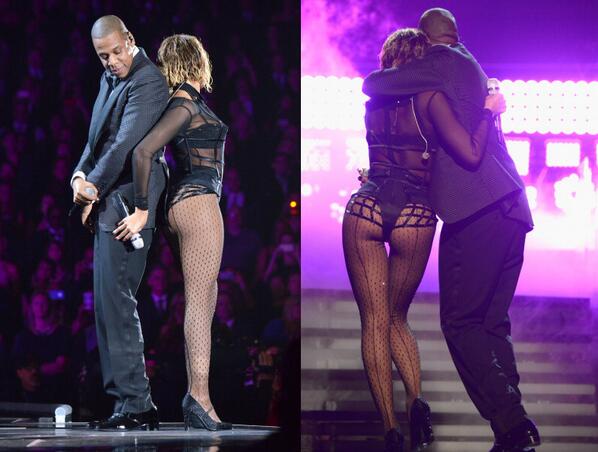 Beyonce and Jay Z looked amazing in the opening duet they performed on stage of 'Drunk in Love'  … and so in love!
Aaaand … here it is as a sexy GIF (MTV warned their performance was so hot it "might get you pregnant" just watching it).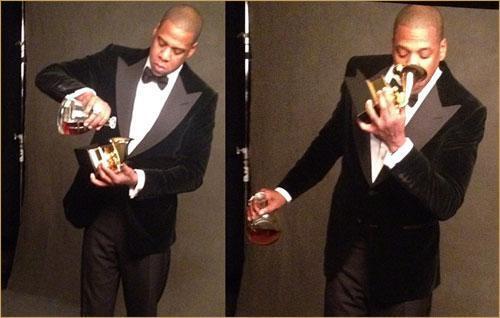 Jay Z won the award for Best Rap/Sung Collaboration for his track "Holy Grail." In his speech, he thanked God and the universe for bringing Beyonce into his life. He concluded by giving his toddler daughter Blue Ivy a shout out, and telling her that he would be bringing home a sippy cup that would make all of her play date friends very jealous.
It didn't take long for the jealous celeb parents to pipe up. Jenna Dewan (wife of Channing Tatum) tweeted: "Gold sippy cup haha!!! Amazing. Everly's jealous#grammys"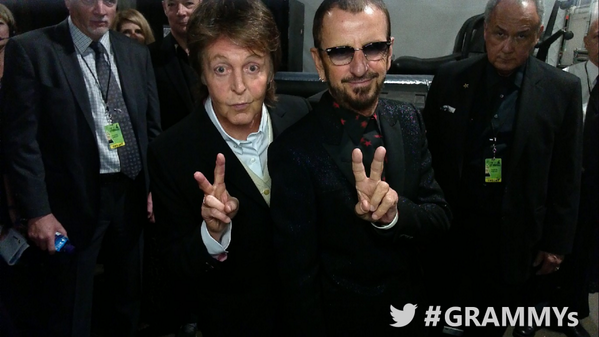 There was plenty of awesome Beatles action at the show. Here's a shot from the official Grammys twitter account, captioned: "Backstage at the #GRAMMYs  with @PaulMcCartney @ringostarrmusic"
The pair later reunited on stage to sing McCartney's lastest single Queenie Eye. Before going on stage Paul made his way through the crowd to greet Yoko Ono and hold her hands.
Yoko Ono then showed off her dance moves in the audience (the lady is 80, cool!) while Paul and Ringo performed.
Earlier in the night she posed on the red carpet with Madonna for this cool shot.
Madonna also struck a pose with son David on the red carpet.

Speaking of grooving … Paul did some of his own.
Pink's performance was AMAZING. People StyleWatch tweeted: Fine, @pink, we'll go to the gym tomorrow morning. #geez #grammys
Taylor Swift gave a standing ovation when new country star Kacey Musgraves won the award for Best Country Album (instead of her). Classy.
She also startled everyone with her head-banging performance on stage.
And her moves off-stage too …
Steve Martin won a Grammy! He tweeted: "Wow! Still exciting after all these years. Grammy for best Americana Song, with @ediebrickell"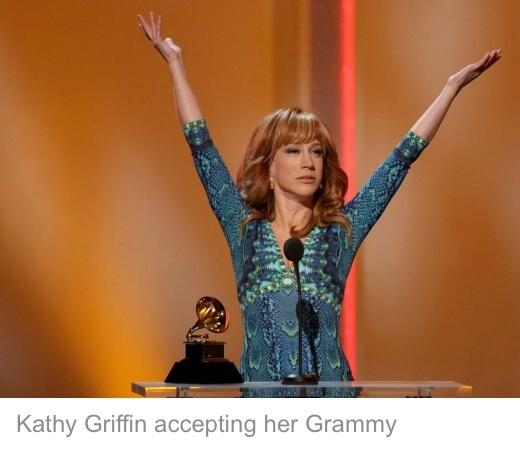 So did Kathy Griffin, winning best comedy album award Grammy for Calm Down Gurrl.  She tweeted: "Hey @Cher! I won a #GRAMMY. Oh & I'm sittin next to Stevie N!!"
Katy Perry caught the bouquet during Macklemore & Ryan Lewis' performance of "Same Love" as over 30 couples simultaneously wed during the Grammys and wrote on Instagram: "Congrats to all the #samelove couples tonight. You had me in tears of joy for y'all! Also… Look who caught the bouquet!!! #okuuuurrrr."
(Keith Urban cried during the number. Watch the celebs react to it here <script height="284px" width="506px" src="http://player.ooyala.com/iframe.js#ec=s1dndlazoUfVFD16RIVRu1-6XkYwrDO_&pbid=MzZiMzc1ZDUzZGVlYmMxNzA3Y2MzNjBk"></script&gt;)
Wonder if it's a sign of things to come from the loved up singer???
Macklemore Instagrammed a text message he sent after winning Best Rap Album: "My text to Kendrick after the show. He deserved best rap album… I'm honored and completely blown away to win anything much less 4 Grammys. But in that category, he should have won IMO. And that's taking nothing away from The Heist. Just giving GKMC it's proper respect.. With that being said, thank you to the fans. You're the reason we were on that stage tonight. And to play Same Love on that platform was a career highlight. The greatest honor of all. That's what this is about. Progress and art. Thank you. #grammys"
Some thought it was classy, others such as Gawker slammed him as a "ho bag".
And Miley Cyrus stayed home. She tweeted: "Photo from my performance this evening…." Alongside the caption, she shared a snapshot of herself lying in bed next to her Guitar Hero controller.
And that's it from me re The Grammys … hope you enjoyed the round-up.