The epic house clear-out/joosh continues apace … and in my travels/unravels I discovered this …
It's a replica of something called a botafumeiro. It's an incense burner swung by priests as a form of prayer. 
And I once watched the real thing do this in the Cathedral of Santiago de Compostela in Spain …
It's an understatement to say it was quite spectacular.
Of course, there's a story behind it. Isn't there always?
This one that starts with a marriage proposal at a cafe in the Jardin Du Luxembourg in Paris.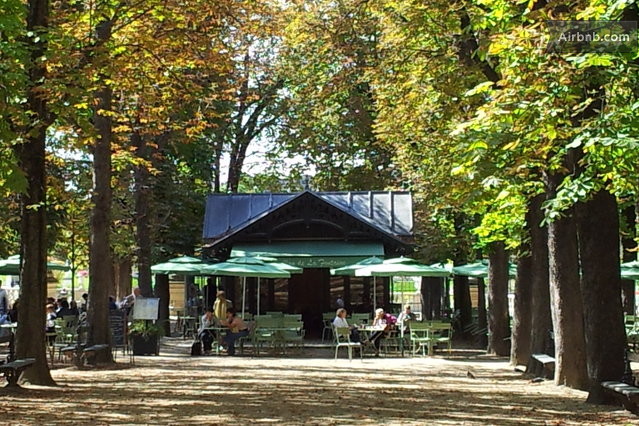 I've touched on my proposal story before, in a blog called Who Were You On Your Wedding Day?
Here's what I had to say: "I'm no romantic. When Husband proposed – on bended knee, in Paris no less – I hissed at him to 'get up off the ground'. People were staring. I don't like people staring. 'Aren't you going to say yes?' he replied. 'Yes, yes! Now get up off the ground!'
An auspicious beginning to a marriage, no?
I feel quite bad about my reaction in retrospect. It's supposed to be every girl's dream to have a man propose on bended knee in Paris. I wish I'd been less self-conscious and more swoony about sitting at an outdoor cafe in the Jardin du Luxembourg as the love of my life asked me to be his wife. Husband had chosen the most gorgeous rose gold engagement ring too, from Love & Hatred in the Strand Arcade in Sydney.
We were in Paris en-route to a little village called Saint Jean Pied de Port on the French/Spanish border to start walking the Camino De Santiago as a "holiday".
The Camino de Santiago (the Way of St James) is an ancient pilgrim route that leads to the tomb of St James in Santiago de Compostela in north-west Spain. In medieval times, pilgrimages were considered an essential part of spiritual life. These days people do it for a variety of reasons – fun, fitness, processing traumatic life events …
It's fortunate that Husband proposed before we started walking because I don't think I'd have said yes after.
I don't put much stock in astrology, but Pisceans are supposed to have problem feet and I live up to the stereotype. I have no idea what possessed me to think walking 240km – roughly a third of the Camino – was a good idea. After one of my training walks for the pilgrimage – Petersham to Hurstville – I got infected blisters. After one day on the Camino – 23kms up the side of the Pyrennes, relentlessly pursued by sheep – I wasn't in much better shape. It looked like we might have to pull out before we'd even really started (like the Brazilian who lost all his toenails after they banged repeatedly against his boots on a particularly sharp descent). Husband was very downcast.
But I soldiered on, sometimes only managing a couple of kilometres a day until we finally found some sport sandals – worn attractively with thick socks – that I could motor along in.
At one low point, I remember wailing: "All I can smell is horse piss and all I can see is mud … This. Isn't. Fun!"
At regular intervals along the Camino, cheap hostels have been established for travellers. Shirley Maclaine embarked on the pilgrimage the year after we did, writing a book about her experiences, called  The Camino. Imagine waking up and finding Shirley lying across from you one morning? There were no celebrities on our trek, just lots of garlicky, farting Frenchmen.
Husband and I would rise before dawn each day so we could be first to arrive at the next hostel. He would barricade the communal bathroom with his body against the marauding, smelly Frenchmen so I could have a private shower with the limited hot water. Then we'd totter to the nearest restaurant to write ourselves off with carafes of cheap Spanish wine. I'd wobble back to the hostel and hoist my legs into my bunk bed with my hands – they were too sore to do it without assistance – and pass out for the rest of day while Husband went sight-seeing.
I'd like to say it was an adventure that I now look back on fondly. Husband does – well, he did – despite needing extensive physiotherapy on his leg afterwards – he even wants to take the kids on it one day. Even before we split up the return trip was NEVER going to involve me. Once was more than enough.
Although I was quite entertained by the Catholics who carried a statue of the Virgin Mary the whole way. And the couple who though it would be a good idea to take a baby along. And the carafes of cheap wine.
I left my engagement ring behind in the communal bathroom one night. That can't have been a good omen.
Fortunately the pilgrims were an honest bunch, so I got it back.
I don't wear it – or my wedding ring – any more. Not because I've separated from Husband, but because I'm allergic to them. They make me break out in angry red lumps. 
There's another bad omen for you …
I wonder if Husband wants the botafumeiro replica in the settlement?
I have so many questions. And so few answers.
Song of the day … The Way We Were by Barbra Streisand … (you will be HORRIFIED by the intro)